Cinco de Mayo "Sycamore to Chamberlain rock"
(The original planned Pacifico run is postponed to a later date because of snow.)
Mileage: 14 miles 
Elevation gain: 2, 705 ft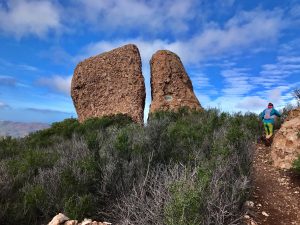 Starting at the first bathrooms on the day parking lot we run quietly through the sleeping camp ground until we reach the dirt fire road. One mile on this road we take a left onto Serrano Canyon trail which will take us up into Serrano Valley. From there we take a sharp left so we make our way to the Old Boney trail, onto the Chamberlain trail. We run up this single track trail until we reach the famous "Chamberlain Rock". It's a local tradition to walk through the split to be freed from all sins.
Your feet might get wet plus the Canyon can have some overgrowth, especially poison oak, plan ahead and bring soap or Tecnu to wash it off in the campground where there is plenty water, before heading home.
Parking is available in certain areas along the PCH, you might have to walk a little. Best parking is along the big sand dune west of the Sycamore Campground.