End of the year club run
"Boney Mountain Scramble adventure"
This is a special club event and only for CLUB MEMBERS. Details will go out via email in the week before.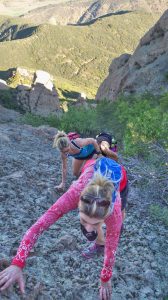 Weather permitted we will go for the original scramble, if the conditions are wet and dangerous we'll go for an alternate route that still will be fun and adventurous!
Let's celebrate a great year of many runs, fun adventures and new friends with an end of the year scramble up Boney Mountain. This is partly running, hiking, scrambling and taking breaks for view staring and picture taking.
In total we will cover about 16 miles making it a loop, it's not for the faint of heart and only for those that are comfortable with very steep sections, with rock scrambling and bouldering. In the event of wet and muddy conditions there will be a safer route.
I have a mapped out shorter route ready for the others that want to skip the scary boulder part, they'll still have a great somewhat different run to celebrate the last Sunday of 2019! We all start together and go for lunch if desired. Strava map here of the shorter option.
We'll decide on a place to have lunch for those that are interested.