Guadalasca trail from Ray Miller TH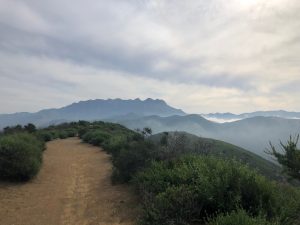 This fun 16 mile run begins with the climb up Ray Miller trail, then turn left onto Overlook trail and onto the Guadalasca trail which zig-zags down to Wood Canyon and finally to Sycamore Canyon Fire Road.  We then go right on Wood Canyon Vista Trail then go left on Overlook Fire Road, and return via Ray Miller Trail.  A strenous run and a little longer than we're used to, but very rewarding views.
ATTENTION: There is currently NO potable water on trail – please plan accordingly.
Directions: When coming from the South/East on PCH, the trailhead is approx. 1mile past Sycamore campground, also called "La Jolla Canyon trail". The "Thornhill Broom campground" is on the other side of the road. Please pay attention to new parking regulations along the road and only park where allowed.
Trail Runners Club Strava map and elevation profile