Halloween SATURDAY night FUN run
Starting and finishing at the "Encinal" parking lot,
we start this run with a gentle uphill, (if you wish all the way to Sandstone peak which is almost 12 miles out).
Turn around and head back at any mileage or time!
Good turn around points are:
– "Etz Meloy fire road" which is 4 miles out. (8 total)
– "Yerba Buena road crossing" which is about 5.5 miles out. (11 total)
– "Mishe Mockwa parking lot" which is 10 miles out. (20 total)
– "Sandstone Peak" is 12 miles out (24 total)
Bring a good working headlamp + extra batteries as back-up.
Some fun Halloween themed snacks and your regular water.
DRESS UP – YES let's get a little crazy!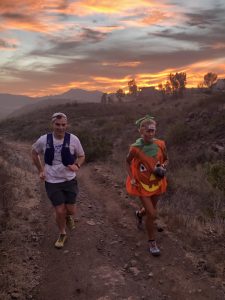 MANDATORY to run with at least ONE buddy, nobody is left behind in the dark! Preferably we run in pace groups.
There will be NO marking, but it's very straight forward, just follow the Backbone Trail signs.