Josephine peak & Strawberry Peak circuit via Red Box
Marked by Anne-Claire & Danny
Without the optional Josephine pk out & back it's about 15/16 miles for the loop only.
Doing the out & back to Josephine peak + the loop = approximately 18/19 miles – 3,450 ft elevation gain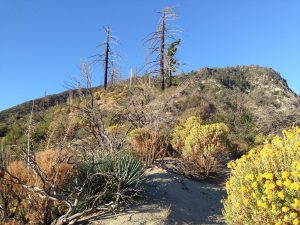 (Some of us might even go explore an out & back to Strawberry Peak, which is an additional 1 mile climb with over 1,000 ft gain, will add 2 miles total and in time at least one extra hour!)
This entire loop is all between 4,000ft-6,000ft altitude, nothing crazy but it's still a lung and leg burner.
ADVENTURE PASS: for the National Forest we need an adventure pass. Same one we use at Chantry. Buy at your local REI, Big5, etc…
GAS up your car before you head up the mountain!
Bring tons of water and calories!