Ray to Guadalasca/Wood Canyon Vista to Ray loop
Mileage: 15.6 miles
Total elevation gain:  +2,507 ft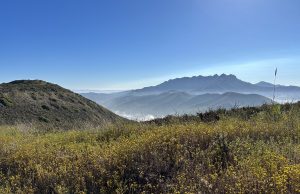 This 16 mile run begins with the climb up Ray Miller trail, then turn left onto Overlook trail and onto the Guadalasca trail which zig-zags down to Wood Canyon and finally to Sycamore Canyon Fire Road.
We then go right on Wood Canyon Vista single Trail then go left on Overlook Fire Road, and return via Ray Miller Trail.  A strenuous run and a little longer than we are used to, but very rewarding views.
If this is too long for you: Start the same as the group, then turn around whenever you'd like! (It's 4.7 miles out to "Four Corners")
Currently there is NO potable water on course so plan accordingly!
Bring insect repellant and cover your body with it when you arrive, the mosquitos are out and they bite! But they will leave you alone when you wear bug spray.
Directions: When coming from the South/East on PCH, the trailhead is approx. 1mile past Sycamore campground, also called "La Jolla Canyon trail". The "Thornhill Broom campground" is on the other side of the road. Please pay attention to parking regulations along the road and only park where allowed.