"Singletrack Stampede" or Millenium loop pre-view run
Preview run by SoCalTrail series of the race "Singeltrack Stampede" on March 5th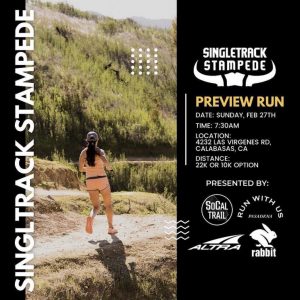 It's Singletrack Stampede preview time! We're joining Socaltrail and Run With Us for a fun morning out on the trails.
They'll have special prizes available including a pair of shoes from Run With Us, a $50 gift card to Run With Us and a Singletrack Stampede free race entry. Also Altra running will be joining so we can try out their newly released Lone Peak 6.
There will be a 22k distance as well as a 10k distance. The courses will be marked.