SoCal Six-Packs of Peaks challenge #2 "Cucamonga Peak"
Cucamonga Peak: Elevation 8,859′ (2,701m)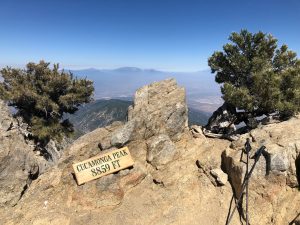 The most popular route takes you up beautiful Icehouse Canyon, then heads ever higher beyond the saddle.
A total of 11 miles with 4,100 ft elevation gain.
The reward? Epic views of the Inland Empire. This out & back course is a good opportunity to bring your hiking family or friends as Icehouse Canyon is lots of fun with all the running water and rocks along the trail, they can go for their own hike.
The trail begins at the popular Icehouse Canyon trailhead about a mile beyond Mt. Baldy Village, before heading up the mountain to Manker Flats. It gets really busy here early in the morning, the reason we meet at 6 am and will try to start promptly to beat the heat and the crowds. It's a steady climb, so if you'd like to use poles, this is a good day to do so.
There are bathrooms at the start but no water. Bring plenty drinking water and calories.
Parking Adventure Pass for the National Forest is required! If you don't have one yet, then you can buy a year pass for $30 at your local REI or Big5 Sporting Goods. We have several runs a year in the Angeles Forest so it's advised to buy a year pass. (You can also just buy a day pass for $5.)
Wanna read more about the Six-Pack of Peaks Challenge ?
Wanna read more details about this route on SoCalHiker's blog ?
Trail Runners Club Strava map with elevation profile.
(Is this not enough mileage and climbing for you for the day? Then you can add on "Ontario Peak" and "Bighorn Peak". For that you return to the Icehouse Saddle after visiting Cucamonga Peak (the saddle has clear trail signs), take the Ontario trail and go up again, with a side chute to visit Bighorn Peak if you wish. This will add another 6.5 miles and 1,700 ft elevation gain to your total.)