Top of Reseda to Trippet Ranch
Mileage: 12 miles
Elevation gain: +2,250 ft
Today takes place the Malibu Triathlon so we are starting at the other side of Topanga SP so nobody needs to drive on the Pacific Coast Highway to make it to the start of the run.
Starting at the end of "Reseda Blvd." -off Freeway 101- it's a very accessible and popular trailhead.  At the gate we take the single track on the right and run the fire road that takes us to the Hub (with outhouse), from there we take the lower Eagle Springs road to Trippet Ranch with bathrooms and potable water.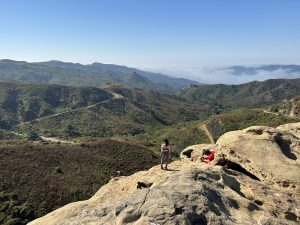 Then we'll connect with the Mush Trail, then head out to Eagle Rock. After a visit to the top of Eagle Rock for it's amazing views, we continue on towards the Hub.
From there we backtrack on the fire road back to our cars.
Directions on Google maps: https://goo.gl/maps/cZV4D Park "before" the yellow line: that's where it's FREE parking. (And if you decide to park close to the trail head behind the yellow line: that's where you pay a State Park FEE.)