santa monica mountains – Trailer to Eagle Rock
Mileage: 11.5 miles
Total elevation gain: 1.868 ft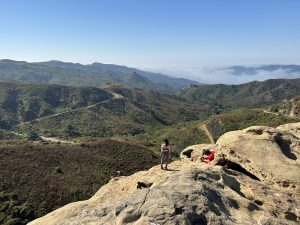 A lollipop loop starting at Trailer Canyon.
Looping around via the Eagle Springs and Eagle Rock fire roads, with a visit to the top of Eagle Rock before continuing the route.
The route is almost all runnable fire roads. There's NO WATER at the trailhead or on the route. At mile 4.3 "The Hub", there's an outhouse toilet. From the Hub, we'll do the Eagle Rock loop, then return back to Trailer.
Street parking is available on Michael Lane. Trailhead is opposite 1798 Michael Lane.
Chris will be marking the route.
There's lots of houses at the trailhead, so try not to wake up the neighborhood when we gather at 7am.
Strava route
Google map location 
Park near 1798 Michael Lane, trailhead is opposite of this address.