Zuma ridge loop from Bush Drive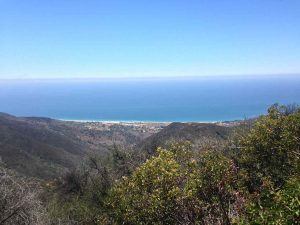 We start this run at the "Zuma Ridge Trailhead", at the end of Bush Drive along the Pacific Coast Highway in Malibu, Point Dume.
The course is for 100% a loop and is 11 miles total. Some rolling miles in the beginning, then long ups and once at the crossing Zuma Edison rd with Zuma Ridge trail it's all downhill from there! This is not an overly used area with some great single track and lots of runnable dirt roads. It can be hot in the summer and there is NO water on the course! Come prepared!!!
Lots of canyon views and even more amazing ocean views.
Those that would love to add some mileage to this run, there's an option to run an out & back on Zuma Ridge trail UP to Buzzards Roost (approx. 1 mile out) -or further if desired- before taking this trail back down all the way to the start/finish. We will mark this point with a double arrow with the letters OPT pointing to your out&back.
There is also a great opportunity for hikers or those that want to go only short to hike/run a very scenic 3.8 mile loop with the Canyon View trail and head back via the Ocean View trail. Ask for a map at the start.
This course is dog friendly but can get really hot in the summer months. Come prepared.
(This is part of the Sean O'Brien Ultra marathon courses.)
Disclosure: This area has opened only 1 month ago since the Woolsey Fire and the following winter storms. I've hiked the Zuma ridge fire road a couple times since then, and it's in fabulous conditions. I have NOT been on the Canyon View trail and the Edison road but looking down on it from Zuma ridge, it all looks pretty open and in great shape. Let's go explore it!
Course map and elevation profile on Strava
Parking area with trail head location on Google Maps: https://goo.gl/maps/8NiWb